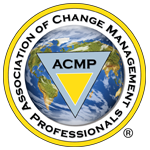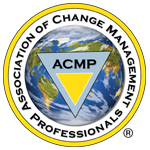 I'm pleased to announce Enclaria recently gained the Qualified Education Providerâ"¢ status from the Association of Change Management Professionals® (ACMP®) for its Fundamentals of Change Management course. ACMP's goal is to advance the discipline of change management, and Enclaria is eager to contribute its part in developing skilled practitioners who design and influence change at work.
The QEP status signals that this course aligns with ACMP's Standard for Change Management© and adult education best practices. As it is a generally accepted approach to change management, aligning to ACMP's Standard provides a solid base for change management education and knowledge. The Fundamentals of Change Management course also adheres to best practices in instructional design and delivery, ensuring participants have an opportunity to apply what they learn.
For those seeking ACMP's Certified Change Management Professional™ (CCMP™) accreditation, taking the QEP course will ensure a quicker review process for your application as well as help you prepare for the related CCMP exam when it becomes available.
You'll hear more about the Fundamentals of Change Management course in the coming months. For now, mark your calendar for September 28-30, 2015 in Atlanta!