One of Enclaria's training programs is Leading Your Team Through Change, a workshop to help leaders effectively leverage their authority to influence change within their teams. During a recent session with senior leaders of a large organization, one of the participants interjected, "What if we don't like it ourselves?"
It's not enough to know what you need to do to implement change. One of the things that can prevent us from effectively leading and managing change is our own personal resistance to it. Sometimes we avoid doing what we need to do to move the change forward because we don't like it ourselves. Or, we don't like what we have to do to make it happen. You know what you should do, but something is holding you back from turning it into action.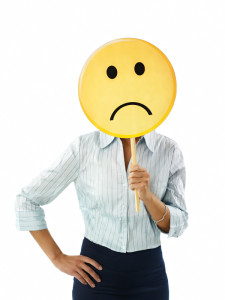 How can you resist the very change you're trying to implement? You might not like it because:
The project was started higher up in the organization, and while you're responsible for implementing it, you would not have chosen to do it.
You spoke out against it or argued for some elements to be different, but the outcome was not what you advocated for.
In your quest to invite others to participate in the design of the project, it has morphed into something you don't recognize.
The change will negatively impact people, and you don't want to be the one to cause the unavoidable pain and frustration.
You just think it's a bad idea and it won't work.
Unfortunately, whether conscious or unconscious, the desire to see the change fail can easily become a self-fulfilling prophecy. If you secretly want it to fail, you will find a way for it to not work. If you doubt it will succeed, you will look for proof and act in ways that support your prediction. So, if you're responsible for making the change happen, it's imperative to acknowledge your own resistance and find ways to overcome it. Otherwise, you may unwittingly sabotage the project, and perhaps along with it, the organization and your career.
How do you know you're resisting your own change initiative? For one, you start doing things you wish other people wouldn't do when you're implementing change: You avoid working on it, you procrastinate, and you find excuses. You also feel yourself wanting to fight, run or hide when you think or talk about it. You may wonder whether the organization should be undertaking this initiative at all or doubt your own ability to get it done. Besides relying on your own self-awareness, ask others to let you know when you do or say something that seems to contradict the change, as that may be an indicator that you're not fully on board.
What can you do to influence a change you don't even like? How do you reduce your own resistance to change and implement it effectively anyway?
Gain clarity. Even though you're the change agent, if the change was instigated somewhere else in the organization, it may not have been communicated to you well. The real "why" is probably missing. Ask for the full story behind the decision to implement the change, so you can gain understanding yourself and potentially find a new source of personal motivation.
Understand your resistance. Look inside to discover the true source of your discomfort. What will you lose as a result of this change? What personal characteristic or skill (or lack thereof) seems like an impediment? What are you afraid might happen when this is implemented? What would have to change about the project for you to be comfortable implementing it? Where do you just need to get over yourself and out of your own way? Understanding your own reaction will help you identify any gaps than need to be filled, both organizationally and personally.
Influence what you can. If you are concerned that the project will not be implementable in its current form, then it's your responsibility to speak up and turn it into something that can succeed. Ask for the resources you'll need to support it adequately. Even if it doesn't go your way, at least you'll know you tried. And then you can move on to…
Make the best of it. If the project "is what it is," then let go of the aspects you can't control. The good news is you can choose your attitude and spin it positively for yourself. Challenge yourself to influence the change in spite of its shortcomings. See it as your opportunity to make the experience better for people than if you weren't involved. How can you see the change from a different perspective so it feels like a good thing? Consciously choose not to become a victim of the circumstances.
You won't always get dream projects to work on. And there will be some you don't want to do for a variety of reasons. But mastering your own resistance and succeeding with the uncomfortable projects can be the ultimate confirmation of your ability to influence change at work.