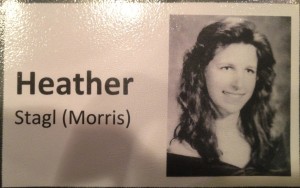 This weekend I attended my 20-year high school reunion. It was fun to see everyone, now quite a bit older and wiser.  Here are a few lessons I took away from the event.
Time changes everyone, albeit in different ways. The rigors of life leave an imprint on all of us that no one can escape.
People remain themselves. What you will become is already in you.
A common experience brings diverse people together.
Forgive an offense that was due to circumstance or ignorance.  And it almost always is.
Things happen just the way they are meant to.
Friends will always be good for hugs, encouragement and support.
Memories are precious. It's easier, and more accurate, to remember together than apart.
It is not possible to start over. It is possible to begin again.
Believing people can change is instrumental in growing relationships.
People caught on camera with each other are bonded together in real life.
Thanks for the memories, Reed High Class of 1992 – the old ones and the new ones!