In this 50th episode of The Change Agent's Dilemma, my guest is Karen Steinberg, founder of The Possibility Practice, who shares How to Get Things Done When You Feel Powerless.
Listen to this episode to hear situations that cause people to feel powerless at work, and learn what you can do when you feel like you can't do anything at all.
Listen to the show here (30 minutes):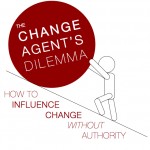 Be sure to visit the podcast page to listen to past episodes and subscribe to the show.