On this episode of The Change Agent's Dilemma, you'll hear my interview with Al Pittampalli, author of Read This Before Our Next Meeting. On the show, we talk about how to host effective meetings that drive change.
Tune in to hear why the way we conduct meetings is so bad, and learn a new format for meetings that will bring about results and use time, our most limited resource, more effectively.
Listen to the show here (30 minutes):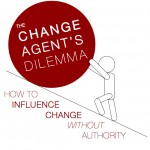 Be sure to visit the podcast page to listen to past episodes and subscribe to the show.