In this episode of The Change Agent's Dilemma, Culture Sleuth Terri Kruzan shares how to spot and correct a workplace culture problem.
Listen in to hear why culture is important for change agents to pay attention to. Learn how to tell when your organization's culture is a problem for your change initiative, and what to do about it.
Listen to the show here (30 minutes):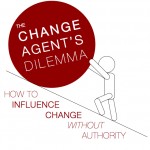 Be sure to visit the podcast page to listen to past episodes and subscribe to the show.