Today on The Change Agent's Dilemma, I interviewed Blair Miller of Blair Miller & Associates. For 18 years, Blair has worked with organizations to help leaders and teams work smarter, solve problems more effectively and turn on their conscious creativity.
Listen in to hear why innovation is essential to organizational change, and how to foster innovation in your workplace. Blair also provides a quick assessment so you can gain insight into your preference within the four-step creative process.
Listen here (30 minutes):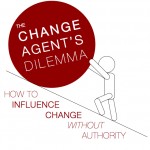 Be sure to visit the podcast page to listen to past episodes and subscribe to the show.