This week's guest on The Change Agent's Dilemma is Josh Letourneau, of Knight & Bishop, who uses math to help organizations change. Josh specializes in Social Network Analysis (SNA) and helps expose the invisible, informal networks that determine how work really gets done. Join us for a fascinating look at how you can mathematically pinpoint key individuals who control and can help change your culture.
Listen here (30 minutes):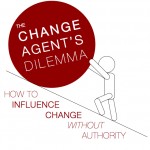 Be sure to visit the podcast page to listen to past episodes and subscribe to the show.