This morning on The Change Agent's Dilemma radio show, I interviewed Maria Gajewski, Chief Assistant to World Savers at Changing River Consulting.
As an evaluator for nonprofits, Maria is an expert at determining whether an initiative is having its intended effect. On the show, she shared how evaluation works and when you would want to evaluate your change initiative. She also shares the tools she uses in the evaluation process.
Maria has provided a summary of today's discussion for Enclaria listeners. Download the PDF here.
Listen here (30 minutes):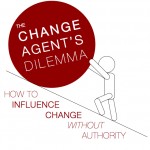 Be sure to visit the podcast page to listen to past episodes and subscribe to the show.