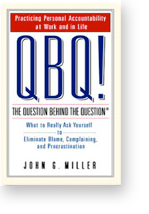 This morning I interviewed John G. Miller, bestselling author of QBQ: The Question Behind the Question and Flipping The Switch as well as the new book Outstanding! 47 Ways to Make Your Organization Exceptional, on my biweekly radio show, The Change Agent's Dilemma. The topic was "Make Personal Accountability a Core Value Using the QBQ."
During the show, John shared his methodology for eliminating blame, complaining and procrastination. He also talked about the two myths of accountability and much more!
Listen here (30 minutes):
If you are a podcast listener, you may also subscribe to The Change Agent's Dilemma on iTunes.