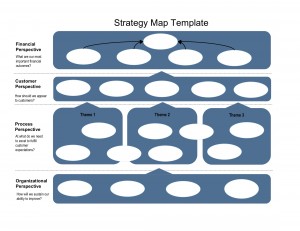 It's been a while since I've posted a template. I'm in the process of helping the Organization Change Alliance with their strategy map, so I thought I would post the generic template we started with.
A strategy map is a one-page visual representation of an organization's strategy.  It originates from the Balanced Scorecard methodology, so it consists of the four BSC perspectives:  Financial, Customer, Process, and Learning/Growth.  The "bubbles" are placeholders for objectives – individual pieces of the strategy, like "Maximize marketing effectiveness" or "Create enthusiastic customers."  The objectives answer what success looks like from each perspective.  Themes, usually in the Process perspective, are groups of objectives with the same general, well, theme.
The template is in PowerPoint format.  Feel free to modify as you wish, and contact me if you would like some help.
If you found this post useful, you may also be interested in: