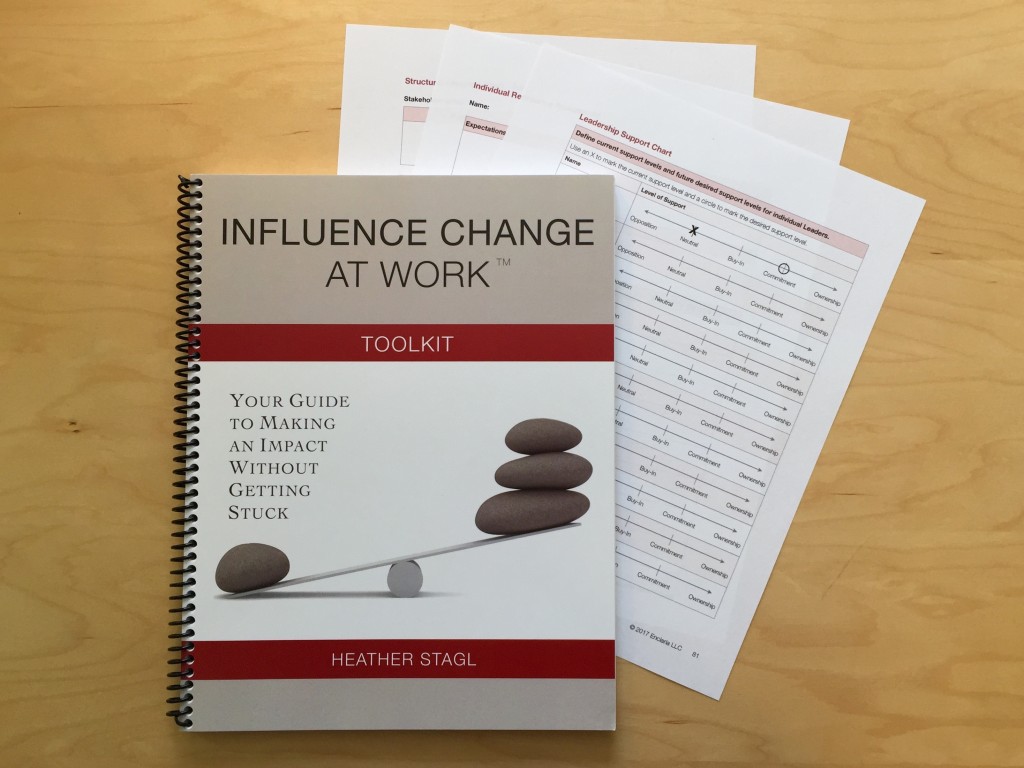 Toolkit:
Workbook +
Templates

$249  $175 +

Free Shipping
Anywhere*
Stop spinning your wheels. Make an impact at work without getting stuck.
The Influence Change at Work™ Toolkit provides easy-to-use exercises and templates to help you do things like:
Clarify what really needs to change in your organization to achieve the desired result
Pinpoint the underlying causes of resistance and how to reduce or eliminate them
Define whose support you need and figure out how to get it
Design communications, training, and other programs that will drive the change forward
Boost and apply your personal influence.
While there is no one size fits all prescription, the Influence Change at Work Toolkit helps you and your team customize the solutions to the change you seek to implement in your organization. No matter what your change initiative is or what role you play in the organization, this workbook will work for you.
The Toolkit includes:
An info-packed spiral-bound workbook with more than 35 templates
PDF templates so you can print out as many clean copies as you need
PowerPoint templates you can customize and share with others in your organization
Four quick reference guides of the most popular content.
Order the Influence Change at Work Toolkit risk-free! If for any reason you are dissatisfied, return the workbook within 30 days to receive a full refund.
Toolkit:
Workbook +
Templates

$249  $175 +

Free Shipping
Anywhere*
* Free shipping applies to UPS Ground or USPS First Class International. Need it sooner? Select a faster option at checkout.
Note: If you are a consultant or training organization interested in using the Influence Change at Work Toolkit as part of your services, or if you are building an internal change methodology and would like to incorporate all or part of the toolkit into your approach, please contact me for bulk pricing or licensing.