Looking for new ways to keep your change project going when the going gets tough?
Would you prefer it if it weren't so tough to begin with?
Starting on September 17, join me for the Design & Influence Irresistible Change™ webinar series. You'll learn a practical, straightforward methodology with exercises, templates and tips to help you keep your change project moving forward.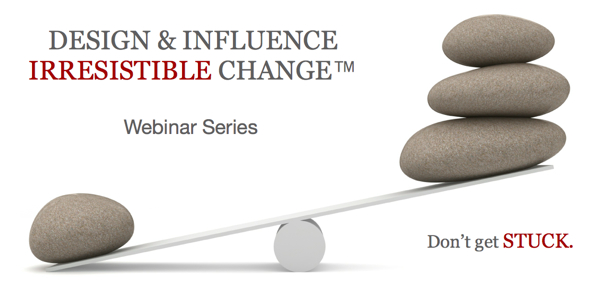 In this 5-part webinar series, you will learn the steps and gain the tools to both design change in advance so it has the best chance of succeeding and influence change as you go so your initiative can keeping going even when it hits those inevitable bumps along the way. You'll also have the chance to ask questions and get advice on how to apply the principles on your project.
Each 90-minute webinar comes with companion templates you can use immediately to implement what you've learned. You can attend each webinar individually, or sign up for all five events and you'll get the complete set of templates, plus you'll get the Irresistible Change Guide™ workbook for just the cost of shipping!
Check out the five topics we'll cover in depth over the course of the series. Click the titles for more information on individual events.
Register for the whole series at once, or add any of the individual webinars to the cart and then click "View Cart" to register for just those events. And don't worry if don't know your availability that far in advance – all webinars will be recorded so you can still watch the ones you miss.
Fall 2014 Schedule
Date
Topic
Price
Register
September 17
Define Your Change
Clarify what really needs to change in order to achieve the desired results for your organization.
$75
October 1
Uncover and Reduce Resistance
Anticipate how people will react to change so you can reduce backlash, and learn how to handle resistance when it happens.
$75
October 15
Gain Leadership Support
Navigate the roles and relationships of change to get leaders to help you implement change.
$75
October 29
Design and Communicate Change
Create the structural elements that will drive change, and develop a plan to pinpoint communication.
$75
November 12
Elevate Your Influence
Increase and leverage your own power to make a bigger impact at work.
$75
The Irresistible Change Guide Toolkit
A workbook plus 35+ templates to help you design and influence change.
$147
FULL SERIES
Attend all 5 webinars for a discount, PLUS you get the Irresistible Change Guide™ toolkit, for just the cost of shipping!
$522 $297

Note: All events start at 1:00 p.m. Eastern time.
Feel free to gather a small group to watch the webinar(s) together. However, each registration for the complete series comes with only one Irresistible Change Guide™ workbook. If you would like to purchase additional workbooks, you may add them to the shopping cart here.
Need to get funding approved to attend this series? Download a brochure here.
If you have any questions, please contact me. Otherwise, I look forward to your participation in these events!