To influence change across an entire organization requires designing tools, programs and systems to move groups of people in the right direction. These elements help communicate, enable, and motivate change.
Your job as change agent is to select the proper tools to influence change, customize them to suit your organization and initiative, and keep track of all the moving parts – and their affect on the change. One essential method you will use is communication, which happens whether you design it or not.
Join me on April 23, 2014 for the fourth webinar in the 5-part Design & Influence Irresistible Change™ series. You'll learn the five fundamental levers of influence and how you can apply them to design change, and you'll gain a four-step approach with templates to effectively plan communication that drives change.
Webinar:
Design and Communicate Change

April 23, 2014
1:00 – 2:30 pm Eastern
$75

In this webinar, you'll learn:
A wide variety of methods you can use to influence and support groups of people during the change
The five fundamental levers of influence and how you can use them to select and design the methods to change your organization
The steps to creating an aligned and audience-centric communication plan.
Along with your participation in this live webinar, you will also receive PDF and MS PowerPoint templates you can use immediately to implement what you've learned.
This webinar is the fourth in the Design & Influence Irresistible Change™ Webinar Series.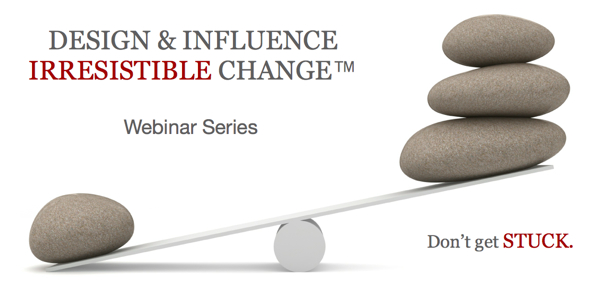 In this 5-part webinar series, you will learn the steps and gain the tools to both design change in advance so it has the best chance of succeeding and influence change as you go so your initiative can keeping going even when it hits those inevitable bumps along the way.
Winter/Spring 2014 Schedule
Date
Topic
Price
Register
January
29
Define the Change
Clarify what really needs to change in order to achieve the desired results for your organization.
$75
Closed
February
26
Uncover and Reduce Resistance
Anticipate how people will react to change so you can reduce backlash, and handle resistance when it happens.
$75
Closed
March
26
Gain Leadership Support
Navigate the roles and relationships of change to get leaders to help you implement change.
$75
Closed
April
23
Design and Communicate Change
Create the structural elements that will drive change and develop a plan to pinpoint communication.
$75
May
21
Sharpen Your Influence
Leverage your personal power and develop the skills to make an impact with both individuals and groups.
$75
FULL SERIES
Attend all 5 webinars for a discount, PLUS you get the Irresistible Change Guide™ workbook, an additional $175 value, for just the cost of shipping!

$550
$298

Note: All events start at 1:00 p.m. Eastern time.
Feel free to gather a small group to watch the webinar(s) together. However, each registration for the complete series comes with only one Irresistible Change Guide™ workbook. If you would like to purchase additional workbooks, you may add them to the shopping cart here.
Need to get funding approved to attend this series? Download a brochure here.