Ready to gain some traction?
People who implement change at work use common phrases to describe the frustration they feel at times:
Herding cats.
Swimming upstream.
Banging my head against the wall.
Spinning my wheels.
Walking through quicksand.
Pushing a boulder uphill.
In other words, it seems like a lot of effort for little or no result. Sound familiar?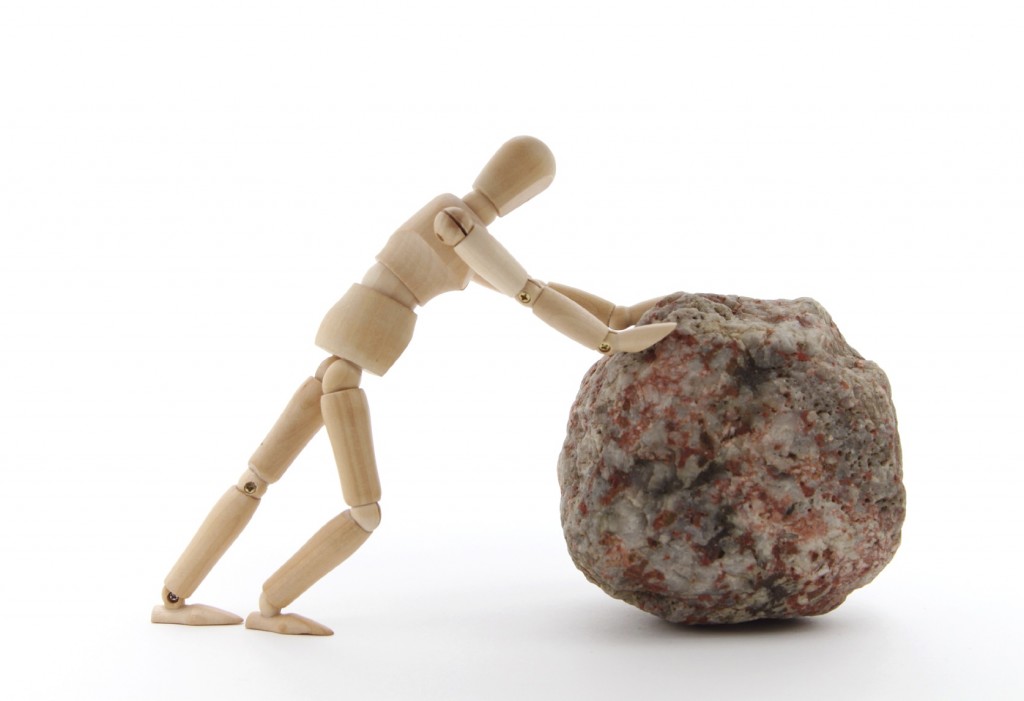 After years of working with change agents, I've observed that when they describe their situation this way, it's because their change is stuck. They've tried what they thought would work, and change hasn't happened at the scale they expected.
And while being stuck during change may seem normal, it's certainly not inevitable.
My work with clients falls into two categories:
Helping those whose change initiatives are stuck get unstuck.
Helping others avoid getting stuck in the first place.
Over the years, I've developed a set of activities and templates to help clients plan ahead to reduce obstacles and deal effectively with challenges when they do happen. My approach focuses your effort on the things you need to do so your change initiative can continue making progress, without getting stuck.
And you can get these tools for yourself in the Irresistible Change Guide!
The

IRRESISTIBLE CHANGE GUIDE™

DESIGN & INFLUENCE CHANGE

WITHOUT GETTING STUCK
The Irresistible Change Guide provides a straightforward model for thinking about and organizing your change efforts. It includes more than 35 exercises and templates to help you clarify your change, uncover and reduce resistance, gain support, and design ways to influence change on large and small scales.
After working with people in roles as diverse as HR, IT, strategic planning, project management, process improvement, sustainability and change management, I've discovered that every change agent faces common challenges, and the approaches to overcoming them is the same.
While there is no one size fits all prescription, the Irresistible Change Guide helps you ask and answer the questions that will help you and your team customize the solutions to the change you seek to implement in your organization. No matter what your change initiative is or what role you play in the organization, this workbook will work for you.

As a result of completing the Irresistible Change Guide, you will:
Clarify what really needs to change in your organization to achieve the desired result
Pinpoint the underlying causes of resistance and determine how to reduce or eliminate them
Define whose support you need and figure out how to get it
Figure out which systems, programs and tools will drive the change forward
Determine the practical steps you can take to shift individuals and groups
Build your personal influence in your organization.
Check out the sidebar to see what other change agents have said after using the Irresistible Change Guide.
Two years ago, I introduced this methodology in the Irresistible Change Guide™ — published in a giant 3-ring binder. Now I'm relaunching it — with even more activities and templates — as a more functional workbook.
The Irresistible Change Guide will relaunch on August 12.
Pre-order your
toolkit

today
and you'll get free registration to the
Define Your Change webinar on September 17.
Using the Irresistible Change Guide, you can implement change yourself with these options:
Workbook

Templates

Toolkit

Workbook with
Paper Templates
Workbook with
Paper Templates
Immediate download:
PDF Templates
PowerPoint Templates
Bonus Reference Guides
PLUS
Immediate download:
PDF Templates
PowerPoint Templates
Bonus Reference Guides
PLUS
Pre-order by August 12
and attend the Sept 17 Define Your Change webinar FREE! (regular price $75)

$75

$97

$247
$147
No matter which option you choose, the time you will save by using the templates is worth more than the price alone, but the real value of the Irresistible Change Guide is the impact you will make by bringing about results.
I am so excited about what the Irresistible Change Guide has already done for clients and what it can do for you too. If you have any questions at all, please feel free to contact me and I will be happy to answer them for you.
May your change initiative be truly irresistible!
Best wishes,
Heather Stagl
Enclaria LLC
Note: If you are a consultant or training organization interested in using the Irresistible Change Guide™ as part of your services, or if you are building an internal change methodology and would like to incorporate all or part of the Irresistible Change Guide™ into your approach, please contact me for bulk pricing or licensing.