Thank you for visiting! If your job is to change the way other people work in your organization, then you are in the right place.
I discovered many years ago that when it comes to being a change agent, it doesn't matter whether you are implementing a new IT system, rolling out a process improvement program, or executing strategy. The challenges you face and the effective approaches to influencing change in your organization are the same, even while being totally unique to your situation.
In spite of the many change management and leadership books in the world, there is still a gap between what the books say you should do to implement change, and what you can actually do as an individual to design and influence change in your own organization. My work at Enclaria is dedicated to helping you personally bridge that gap.
So, if you're ready to make an impact at work, here are some ways I can help:
Crank up your influence and give your change initiative a boost with the Influence Accelerator Coaching Program! We'll work together one-on-one over the course of three months to get you and your initiative unstuck. With my support and insight behind you, your coworkers will think you recently started eating Wheaties for breakfast.  Learn more >
Ramp up the change capability of your team with my practical workshops. Whether you want a quick dose with a lunch and learn, a 1-2 day full immersion, or somewhere in between, your team will gain tools and knowledge they can use immediately and for years to come. By the time we are done, your team will have already learned and accomplished a lot, and will also be set up for future success.  Learn more >
Add to your personal change agent toolkit with the do-it-yourself Irresistible Change Guide™. This resource is not your typical theory-laden textbook. Instead, it provides you with practical ways you can design and influence change in your own organization. After reading the first few pages, you will wish you had had these much earlier in your career.  Learn more >
There are plenty of other resources too, such as the radio show, the blog, webinars and other events. You can stay up-to-date on these, plus pick up 12 free templates from the Irresistible Change Guide™, by signing up for the monthly newsletter here.
I look forward to helping you make a positive difference in your organization.
Best wishes,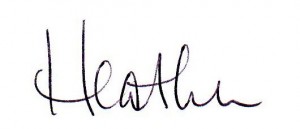 In Others' Words
"Enclaria has created an IMPRESSIVE array of content and practical experiences to help change agents be successful. From my own experience in Fortune 100 companies, I highly recommend Heather Stagl's programs, books, and newsletters. Thank you!"
Mike Connor, Global Business and Technology Management

"Heather, thanks for everything you do.  Your work on change is straightforward, easy for all to understand, and actionable. Thanks for doing a great job."
Danny Peterson, Continuous Improvement Training Manager, Cliffs Natural Resources
"I can't advocate strongly enough for Heather Stagl's VERY rich platforms of writings, webinars, and nitty gritty tools and templates. She's become a key resource for me here at the Atlanta Community Food Bank. DO enroll in one of her upcoming series!"
Rob Johnson, VP of Community Services, Atlanta Community Food Bank
"Heather Stagl helped me see that the missing link in our Project Management Office was change management. By sharing just a fraction of her organizational change knowledge and insights, she put me on the right path."
Brian Horgan, Project Director, The United Illuminating Company
"As a result of working with Heather, I have a deeper understanding of what it takes to lead through influence and how the process works.  Talking through the steps to gain leadership support has helped me immensely already."
Beth Fenger, Director of Volunteer Engagement, Boys and Girls Clubs of America
"Heather Stagl is a natural at coaching. Her active listening style allows clients to find their own way. Heather's coaching has helped me be more authentic and purposeful as a leader. I am highly recommending her to my entire network!"
Kenny McMahon, Director of Sales, The Jel Sert Company, West Chicago, IL
"Heather works with you to carefully build a dialogue constructed to identify and zero-in on goals, fears, and strategies — both personal and professional. Her coaching techniques demand self-reflection and careful analysis of your own decisions, choices and beliefs. Heather's private and flexible coaching sessions are highly effective at helping you realize your highest potential."
Brooke Phillips, Communications Professional, Atlanta, GA
"Heather has been a tremendous help in helping me clearly identify what is important and then plotting a course to achieve it. Her ability to listen critically and provide honest feedback has helped me to be honest with myself and my colleagues."
Adil Khalfan, Manager, Corporate Planning, University Health Network, Toronto, ON
Client Case Studies
Salty to Sweet:  The Transformation of Mount Franklin Foods
Ensure Smooth Transitions for Successful Change: The United Illuminating Story
Change Reboot: How to Recover When Your Project Gets Off to a False Start
Case Study: Everyday Steps to Sustainability
Affiliations
| | |
| --- | --- |
| | The Association of Change Management Professionals is dedicated to advancing the discipline and profession of change management practices that support the success of individual and organizational change for the realization of intended business results. Enclaria is a Qualified Education Provider for ACMP. |
| | Organization Change Alliance is the learning community of choice for organization development practitioners in metro Atlanta. Heather Stagl was the 2011 Steering Committee Chair at OCA. |
| | Heather is a member of the International Coach Federation (ICF). The ICF exists to build, support and preserve the integrity of the coaching profession. |
| | The Coaches Training Institute (CTI) is the leading training program for coaches worldwide.  Heather Stagl completed coach training at CTI. |