A welcome message has been sent to your email address that includes a link to the free gift you requested. If you do not receive the email in the next few minutes, please check your spam folder.
I discovered many years ago that when it comes to being a change agent, it doesn't matter whether you are implementing a new IT system, rolling out a process improvement program, or executing strategy. The challenges you face and the effective approaches to influencing change in your organization are the same, even while being totally unique to your situation.
In spite of the many change management and leadership books in the world, there is still a gap between what the books say you should do to implement change, and what you can actually do as an individual to design and influence change in your own organization. My work at Enclaria is dedicated to helping you personally bridge that gap.
So, if you're ready to make an impact at work, here are some other ways Enclaria can help:
Fundamentals of Influencing Change at Work
| | |
| --- | --- |
| | Attend this in-depth 3-day workshop to equip yourself with the tools and skills to facilitate the adoption of change in your organization. Bring your project and leave with a detailed change management plan you can start implementing immediately. This workshop fulfills the training requirement for ACMP's Certified Change Management Professional designation. Available in person and online. |
| $1795 | |
---
Private workshops that combine training and facilitation
| | |
| --- | --- |
| | Need leaders, change agents, and others to be more effective during change? Is there a team that needs to work together to implement change? Apply training on a current project and participants will learn while they make real progress. Schedule an appointment to design the solution to best fit your organization and your change initiative. |
| Prices vary | |
---
Influence Accelerator Coaching Program
Crank up your influence and give your change initiative a boost by gaining some outside expert guidance. Partner with Enclaria founder Heather Stagl to clarify your path forward, overcome obstacles, and accelerate your influence.

$1497
for 9 sessions
---
The Influence Change at Work™ Toolkit
| | |
| --- | --- |
| | The Influence Change at Work™ Toolkit is a comprehensive guide that walks you through the practical steps you can personally take to design and influence change in your organization. It's an indispensable do-it-yourself resource for anyone responsible for making an impact at work. |
| $249 | |
---
I look forward to helping you make a positive difference in your organization.
Best wishes,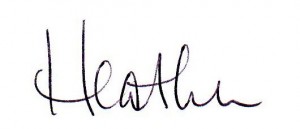 Heather Stagl