On this episode of The Change Agent's Dilemma, my guest is Dr. Trina Hess of The Humor Academy, who will help us answer the question, "What's So Funny About Change?"
Tune in to hear why it is important to laugh our way through change. Learn how to introduce humor into your initiative and explore its limitations.
Listen to the show here (30 minutes):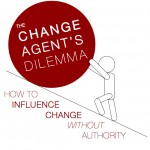 Be sure to visit the podcast page to listen to past episodes and subscribe to the show.