You don't have to be in or near the field of change management long before you hear a daunting statistic:Â  70% of change initiatives fail.
It's mentioned in passing as a fact in most change management books and articles nowadays. I've quoted the statistic myself in presentations, and I'm sure the mention of the number has helped me (and many others) gain business over the years. Google "70% change failure rate," and you'll see 1.96 million results.
The trouble — and the great news — is that there is no solid evidence that it's true.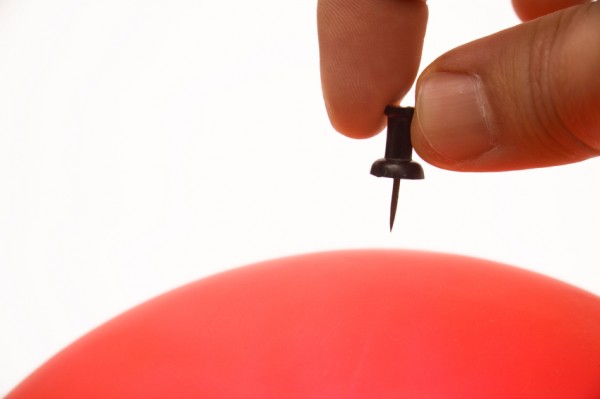 In 2011, Mark Hughes of the University of Brighton wrote about his research into the source of the statistic in The Journal of Change Management:  Do 70 per cent of all organizational change initiatives really fail?  I encourage you to read it for yourself, but to summarize, he found that all the references can be traced back to a few main books or articles:
In 1993, Michael Hammer and James Champy stated in Reengineering the Corporation:
"Sadly, we must report that despite the success stories described in previous chapters, many companies that begin reengineering don't succeed at it…Our unscientific estimate is that as many as 50 percent to 70 percent of the organizations that undertake a reengineering effort do not achieve the dramatic results they intended."
One quote that never seems to be mentioned is this follow up in 1995, where Michael Hammer said:
"In Reengineering the Corporation, we estimated that between 50 and 70 percent of reengineering efforts were not successful in achieving the desired breakthrough performance. Unfortunately, this simple descriptive observation has been widely misrepresented and transmogrified and distorted into a normative statement…There is no inherent success or failure rate for reengineering."
Another oft-quoted source is Beer and Nohria's 2000 HBR article, Cracking the Code of Change, in which they state, with no reference or evidence whatsoever, "The brutal fact is that about 70% of all change initiatives fail." How do they know?
In 2008, John Kotter wrote in his book A Sense of Urgency, "From years of study, I estimate today more than 70 per cent of needed change either fails to be launched, even though some people clearly see the need, fails to be completed even though some people exhaust themselves trying, or finishes over budget, late and with initial aspirations unmet." Again, this is an estimate (albeit from one of the fathers of change management) and not a research-based statement. Interestingly, many people quote the 70% failure rate in John Kotter's seminal HBR article, "Leading Change" from 1995, but the statistic just isn't there. In that article, he does say, "I have watched more than 100 companies…make fundamental changes in how business is conducted. A few of these corporate change efforts have been very successful. A few have been utter failures. Most fall somewhere in between, with a distinct tilt toward the lower end of the scale."
In 2009, McKinsey published "The Inconvenient Truth about Change Management," in which they first incorrectly referenced John Kotter's 1995 article, then shared the results of their own survey of "1,546 business executives from around the world, asking them if they consider their change programs "completely/mostly" successful: only 30 percent agreed." This is the closest thing to real research Hughes found, but does that mean that everything short of complete success is a failure? He also found in the same set of research that only 10% of executives said their change programs were completely/mostly unsuccessful. Isn't that closer to a failure rate, in the truest sense of the term? And notice the number is based on the opinion of executives, and not an actual study tracking projects over time to see if they actually achieved their goals.
In my own digging into this topic, I've found experts like Ken Blanchard and Daryl Conner also referenced their own research and estimates that 70% of change initiatives fail, without citing specific evidence. It's hard to argue with the experts! But for a statistic that is taken as truth at this point, there is a serious lack of concrete evidence.
The 2008 "Making Change Work" study by IBM shares a survey of more than 1500 change practitioners, in which they found that 41% of projects met their objectives. The remaining 59% missed at least one objective or failed completely. It's important to point out that this statistic is not 70%! And it also assumes again that anything short of perfect is failure.
Is change management challenging? Yes. Do we always get the results we expect?  No. We can't predict with certainty how people will react to change and what will work to move them in the same direction. Measuring ourselves with a failure rate ignores the fact that change is a discovery process. What we think success will look like and what it looks like when we get there may be vastly different, and it's something that is uncovered as you manage the change.
If the 70% failure rate is a myth, it explains why:
The number never changes, even as change management becomes more prevalent in business.
Despite the authors and consultants that tout the failure rate statistic, none of them claim that their methodology has a better success rate.
It is only ever used to sell the importance of change management or to get people's attention in an article. The statistic is not used to help us get better, because there is no data to show us what's really going on.
So let's call it like it is:Â  The 70% failure rate is a myth, an urban legend. Let's stop claiming that "studies show" and it's "a well-known fact" that 70% of change projects fail. If you have real data, by all means, please share it. But let's stop perpetuating a misleading statistic that has no concrete evidence.
Instead, let's rejoice that our projects do not have a 70% chance of being doomed from the start. Through steady plodding, stepping out with courage, and using practices that respect and involve the people going through the change, our projects can succeed.
Other bloggers who have also explored the myth of the 70% failure rate make some great points as well: