The path to implementing change in an organization isn't always smooth. Obstacles along the way prevent the change from happening. Despite your best intentions, you and your change initiative can get stuck.
As a change agent at work, you have two primary roles:
To design the change initiative to go as smoothly as possible, and
To influence it along the way when it doesn't.
When you do these two things well, your change is irresistible.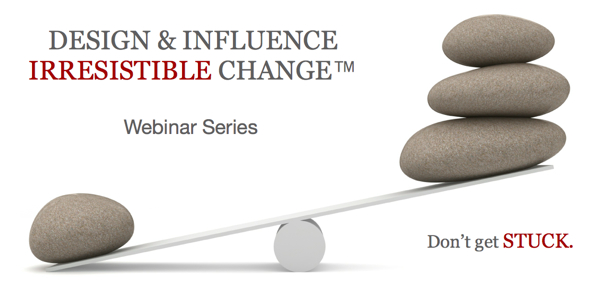 In this 5-part webinar series, you will learn the steps and gain the tools to design and influence change without getting stuck.
Each 90-minute webinar comes with companion templates you can use immediately to implement what you've learned. You can attend each webinar individually, or sign up for all five events and you'll get the complete set of templates, plus you'll get the Irresistible Change Guide™ toolkit for just the cost of shipping!
Check out the five topics we'll cover in depth over the course of the series. Click the titles for more information on individual events.
Register for the whole series at once, or add any of the individual webinars to the cart and then click "View Cart" to register for just those events.
Webinar Schedule
Date
Topic
Week #1
Define Your Change
Clarify what really needs to change in order to achieve the desired results for your organization.
Week #2
Uncover and Reduce Resistance
Anticipate how people will react to change so you can reduce backlash, and handle resistance when it happens.
Week #3
Gain Leadership Support
Navigate the roles and relationships of change to get leaders to help you implement change.
Week #4
Design and Communicate Change
Create the structural elements that will drive change and develop a plan to pinpoint communication.
Week #5
Sharpen Your Influence
Increase and leverage your own power to make a bigger impact at work.
Please note:  There are currently no scheduled events for this webinar series. If you are interested in attending the next series, please confirm your interest by providing your name and email below. You will be notified when the next series is open for registration.