Design & Influence Irresistible Changeâ"¢ Webinar #3:
Gain Leadership Support
October 22, 2013 @ 1:00 pm EDT

-

2:30 pm EDT

$75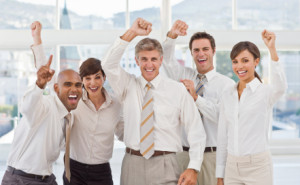 The visible, consistent support of leaders is necessary to show the rest of the organization they are committed to seeing the change through. Without the continual support of leaders, change fizzles out. Gaining leadership support is perhaps the most vital task you are responsible for as a change agent, and yet because of organizational politics and differences in authority, it can also be the most challenging.
In this webinar, you'll learn:
How to navigate the different roles and relationships of change
Whose support you really need, and who you ignore at your own risk
The five levels of leadership support, and how to tell which level  have and which you need
An approach for gaining the support you need.
Along with your participation in this live webinar, you will also receive PDF and MS PowerPoint templates you can use immediately to implement what you've learned.
This webinar is the third in the Design & Influence Irresistible Changeâ"¢ Webinar Series. You can attend this as an individual webinar, or join the series and save! Plus those who sign up for the whole series will also receive the Irresistible Change Guideâ"¢ workbook.
Register for the whole series at once, or add any of the individual webinars to the cart and then click "View Cart" to register for just those events:
Date
Topic
Price
Register
September
24
Define the Change
Clarify what really needs to change in order to achieve the desired results for your organization.
$75
Complete
October
8
Uncover and Reduce Resistance
Anticipate how people will react to change so you can reduce backlash, and handle resistance when it happens.
$75
Complete
October
22
Gain Leadership Support
Navigate the roles and relationships of change to get leaders to help you implement change.
$75
November
5
Design and Communicate Change
Create the structural elements that will drive change and develop a plan to pinpoint communication.
$75
November
19
Sharpen Your Influence
Leverage your personal power and develop the skills to make an impact with both individuals and groups.
$75
FULL SERIES
Attend all 5 webinars for a discount, PLUS you get the Irresistible Change Guideâ"¢ workbook, an additional $175 value, for just the cost of shipping!

$550
$298

Note: All events start at 1:00 p.m. Eastern time.
Feel free to gather a small group to watch the webinar(s) together. However, each registration for the complete series comes with only one Irresistible Change Guideâ"¢ workbook. If you would like to purchase additional workbooks, you may add them to the shopping cart here.
Need to get funding approved to attend this series? Download a brochure here.
Not seeing an event you can attend?
Suggest a timing or location that would work for you: