Thank you for signing up to read organizational change and influence insights from Enclaria.
A welcome message has been sent to your email address that includes links to the downloads you requested. If you do not receive the email in the next few minutes, please check your spam folder.
I discovered many years ago that when it comes to being a change agent, it doesn't matter whether you are implementing a new IT system, rolling out a process improvement program, or executing strategy. The challenges you face and the effective approaches to influencing change in your organization are the same, even while being totally unique to your situation.
In spite of the many change management and leadership books in the world, there is still a gap between what the books say you should do to implement change, and what you can actually do as an individual to design and influence change in your own organization. My work at Enclaria is dedicated to helping you personally bridge that gap.
So, if you're ready to make an impact at work, here are some other ways I can help:
Attend an in-person or online workshop to learn practical ways to increase your influence and implement change at work. Regular classes include Fundamentals of Change Management, a 3-day workshop that fulfills the training requirement for ACMP's Certified Change Management Professional designation. Learn more >
Ramp up the change capability of your team with my practical workshops. Whether you want a quick dose with a lunch and learn, a 1-2 day full immersion, or somewhere in between, your team will gain tools and knowledge they can use immediately and for years to come. By the time we are done, your team will have already learned and accomplished a lot, and will also be set up for future success.  Learn more >
Crank up your influence and give your change initiative a boost with the Influence Accelerator Coaching Program! We'll work together one-on-one over the course of three months to get you and your initiative unstuck. With my support and insight behind you, your coworkers will think you recently started eating Wheaties for breakfast.  Learn more >
Add to your personal change agent toolkit with my do-it-yourself change guides. These resources are not your typical theory-laden textbook. Instead, they provide you with practical ways you can design and influence change in your own organization. After reading the first few pages, you will wish you had had these much earlier in your career.  Learn more >
There are plenty of other resources too, such as the radio show, the blog, and occasional webinars. The newsletter you just subscribed to will keep you up to date on these.
I look forward to helping you make a positive difference in your organization.
Best wishes,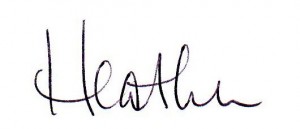 Heather Stagl